Building Community-Based Leaders
Donor :  Sir Ratan Dorabji Tata Trust and XISS Ranchi
Location : Muzaffarpur, Patna, Vaishali
Outreach :  
Project Brief :
Although the National Rural Health Mission (NRHM) set high standards for establishing health services accessible to all Indians in rural communities, delivery of these services has lagged far behind aspirations. The intended recipients have lacked the knowledge and capacity needed to understand where, how, and why they should obtain public health care, while health care providers have not reached out proactively to promote health education and services to their constituents—especially in the area of reproductive health—in remote, deprived, and excluded communities.
Zeroing in on community-based leadership as the key to solving this problem, IDF along with XISS & Needs designed an ambitious program, funded by the Sir Dorabji Tata Trust, to train 400 community leaders in 100 panchayats. Following carefully planned community meetings including all relevant stakeholders from the target communities' existing social, political, and health organizations, all community members had the opportunity to nominate and vote for their chosen leaders in an open and democratic process. Candidates then underwent an intensive 30-day residential training program to build their leadership capacity and educate them to take charge of their communities' basic health issues.
This large cadre of new community-based leaders established a much-needed crucial link between members of the most marginalized and excluded communities and the government institutions established to provide them with health services. By disseminating critical basic information, especially in the area of reproductive health, for all community members, as well as improving their access to health services, these leaders have paved the way for their communities to reap enormous benefits from newfound access to basic, but life-changing, health information and care.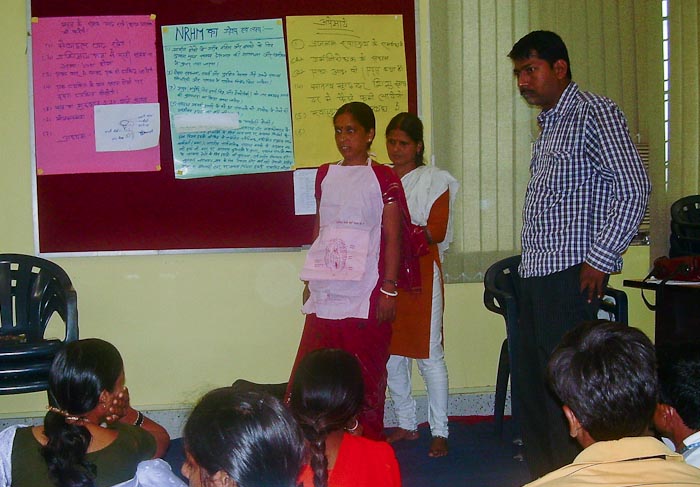 Participants in a community leadership training session